Wendy Johnson to Discuss the Spiritual and Moral Connections to Climate Change at 350Marin's Next Community Meeting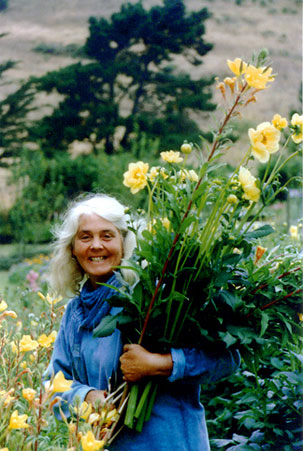 Join us on Tuesday, September 15 for the next Community Meeting. We will have great news, hopefully, on the two major climate bills in the legislature, and information and activities related to the COP Meeting in Paris in December.
Wendy Johnson is a Zen meditation teacher and author of Gardening at the Dragon's Gate. She is one of the founders of the organic Farm and Garden Program at Green Gulch Farm Zen Center. 
We will discuss together the "roots" of this spiritual connection to the changing climate.  The Pope's Encyclical has created more thinking about how social and economic justice is related to the climate.  With his visit to the US next week, it is a good time to reflect on this and possibly even rethink how we look at our connection to the land. It is important to look at how we take care of our own spirits while dealing with it all, as well.
COST:  None, though donations very much appreciated.  Please bring food (labeled whether it is vegan or not) or drink to share.  Note: please, also, bring a small item, possibly from nature, that you have a spiritual connection with, for an offering table.

The evening will start at 6:30pm with a potluck dinner. Doors open at 6:15pm
In keeping with our commitment to a sustainable planet, we're asking you to bring your own plates and silverware and to label your food. Paper goods will be available, though.

After we dialogue with Wendy, we will provide updates on 350Marin campaigns/committees and have a discussion to help plan events to engage others in Marin in rewriting the climate change narrative.  There are important things to do.
Enjoy good food, meet new people, and join together to create a better future.
WHEN
September 15, 2015 at 6:30pm - 9pm
25 RSVPS
Who's RSVPing
Phil Ritter
Paula Egan
Kathleen Piraino
Silke Valentine
Helga kaufman
Joel Gluck
Lynne Gremban
Susan Peterson
Zhenya Spake
Louise Yost
Richard Gray
Paul Burks
Jody Timms
Ken Jones
Joseph Elliott
Barbara Squires
Ronald Bjork
---